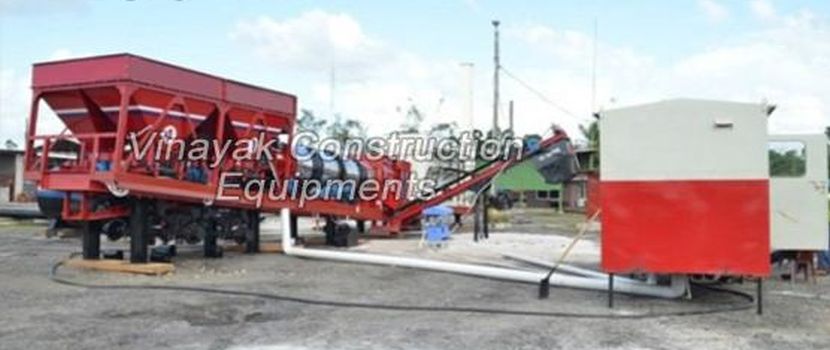 Asphalt plant has been instrumental in the construction of roads all over the world. An essential engineering marvel that has been deployed to carry out the construction activity is undoubtedly a piece of appreciation. Before choosing to buy a mobile asphalt plant certain noteworthy points should be born in the mind to avoid regrets at a later stage. This article moves around the mobile asphalt plant, its features, and the advantages that secure its place among road constructions.
What Is A Mobile Asphalt Plant?
A mobile asphalt plant is essentially a movable assembly wherein the various components serving different functions are interconnected and pulled by a vehicle. The prime function of a mobile asphalt plant is to mix the different road construction materials by heat and thereby making it ready for usage.
Parts Of A Mobile Asphalt Plant:
Cold Feeder Vessel: This part of mobile asphalt provides the raw materials used for making the asphalt mix.
Drying Vessel: This vessel functions as a dryer for the hot mix of asphalt.
Filter: The filter bag in a mobile asphalt is used to remove dust particles.
Elevator: The elevator is used to lift the mix of asphalt to the tower.
Fuel Tank: It acts as a storehouse for fuel to carry out the entire process.
Control Chamber: It has all the necessary controlling units to operate the mixing plant.
Benefits Of Using Mobile Asphalt Plant:
There are numerous advantages of a mobile asphalt plant. But, the most important of those have been discussed below.
Easy Installation: The most riveting feature of this plant is it is quite easy to set up. Components of the mobile asphalt plant can be easily fixed within a limited period of 2-3 days. This saves the time consumed for setting a permanent mobile asphalt plant wherein the complete assemblage consumes a lot of time for functioning freely.
Transport Friendly: The mobile asphalt plants can be easily carried from one place to the other due to their hassle-free dismantling feature. This makes the work convenient and efficient by involving less manpower to handle the activity. The extra expenses to remove a permanently established asphalt plant are avoided in this case.
Sturdy Finish: Mobile asphalt plants are quite sturdy and roughly built, this makes them resistant to any external damage like rust, breakage, etc. Hence it does not require much maintenance for running and it can be left in the open without any protection. A mobile asphalt plant is tough enough to resist any kind of harsh weather.
Can Be Altered: The structure of the mobile asphalt plant can be altered as per the requirement as it is flexible for any additional components or removal of any components too. This unique feature makes it user-friendly by gaining access to all other sites where minimal setup is required for operating the activity.
Uninterrupted Service: A break-free and trouble-free working can be expected from the mobile asphalt plant. It is a user-friendly machine thereby posing ease to work and avoiding interruptions during the activities. On average, a mobile asphalt plant works by producing 80tph to 120 tph (tons per hour) asphalt mix.
Minimal Waste Generation: Mobile asphalt plants do not give waste at most of the operating sites. It prevents any unnecessary and unused raw materials left after the mixing is over. In this way, a mobile asphalt plant causes less garbage to the environment. It is one of the reasons; it is widely preferred over manual mixing processes.
Efficient In Working: The mobile asphalt plant operates on fuel consumption and the dryer consumes far less fuel during a heavy load of work. Thus the efficiency of a mobile asphalt plant is quite high with respect to the fuel-saving capacity of the machine. Hence, it can be said that a mobile asphalt plant makes the maximum usage of fuel fed to it.
Output Quality: The quality of an asphalt mix is of good quality in a mobile asphalt plant as compared to that of manual means. This means the right mixing results in a higher grade of asphalt mix and thereby, the construction of roads is too rigid and long-lasting. During the manual process of asphalt mixing, there are possibilities of many errors.
No Proper Foundation: A mobile asphalt plant does not require any firm or concrete ground for its setup. Instead, it can remain mounted on a vehicle or the ground without any strong foundation. The structures are versatile to be erected on any platform and landscape, thereby, the requirement of a rigid ground structure is not mandatory.
As the engineering services have bettered themselves with time, it has only benefited the human race. Extensive use of mobile asphalt plants can be seen as they are quite judicious and user-friendly machines. By keeping these points in mind, it can be concluded that mobile asphalt plants are the future of road construction.