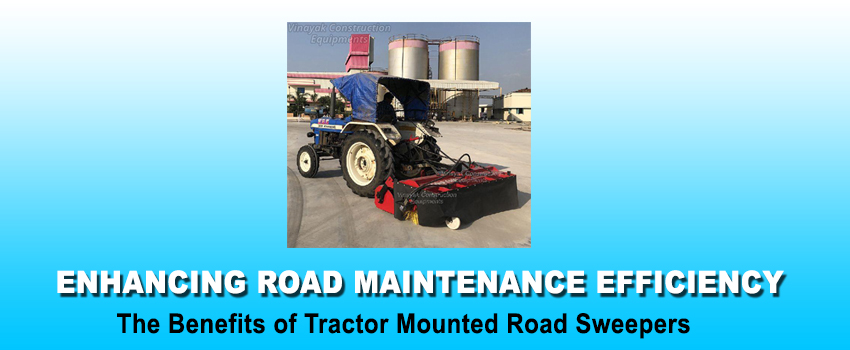 Maintaining clean and debris-free roads is crucial for ensuring safe and efficient transportation. To accomplish this task effectively, the utilization of modern road-sweeping equipment is essential. One such innovative solution is the tractor-mounted road sweeper.
Tractor-mounted road sweepers provide a versatile and efficient solution for maintaining clean and debris-free roads. Their mobility, robust sweeping mechanisms, high cleaning capacity, and efficient debris collection systems make them indispensable in road maintenance operations. By incorporating these sweepers into their cleaning processes, municipalities, highway authorities, and industrial sites can enhance road safety, reduce maintenance costs, and promote overall cleanliness.
Efficient Road Cleaning with Tractor Mounted Road Sweepers
Versatility and Mobility: These road sweepers are designed to be attached to tractors, making them highly versatile and mobile. With their ability to be towed behind different types of tractors, these sweepers can easily access various road locations, including urban areas, highways, parking lots, and industrial sites.
Robust Sweeping Mechanism: These road sweepers are equipped with a robust sweeping mechanism consisting of a set of rotating brushes that efficiently sweep and collect debris. The brushes can be adjusted to achieve optimal cleaning results based on road surface conditions and the type of debris being tackled.
High Cleaning Capacity: These mounted road sweepers possess a considerable cleaning capacity, allowing for the effective cleaning of large areas in a relatively short period. They are equipped with wide sweeping widths, typically ranging from 1.5 to 3 meters or more, enabling swift and thorough cleaning of the road surface.
Efficient Debris Collection System: To ensure efficient debris collection, these road sweepers are equipped with a robust and well-designed collection system. Debris is typically collected in a hopper or container located on the sweeper unit, which can hold a significant volume of material.
Adjustable Sweeping Height: These mounted road sweepers often feature an adjustable sweeping height mechanism. This allows operators to adapt the sweeper to different road surface profiles and clean effectively on uneven surfaces, such as speed bumps or road curbs.
Cost-Effective Maintenance: Implementing these road sweepers for road maintenance operations can yield cost savings in the long run. These sweepers require minimal maintenance and have a long lifespan, reducing the need for frequent repairs or replacements.
Applications of Tractor Mounted Road Sweepers
These road sweepers find applications in various road maintenance scenarios, including:
Municipal Road Cleaning: Tractor-mounted road sweepers are commonly used by municipal authorities for routine road cleaning in urban areas, streets, and residential neighborhoods.
Highway and Expressway Maintenance: These sweepers play a crucial role in maintaining clean and safe highways and expressways. They efficiently clear debris, gravel, and other loose materials that accumulate on these high-traffic routes, reducing the risk of accidents and improving driving conditions.
Parking Lot Cleaning: These sweepers are ideal for cleaning parking lots, both small and large. They effectively remove dirt, leaves, and other debris that accumulates in parking spaces, ensuring a clean and presentable environment for vehicles and pedestrians.
Industrial Site Cleaning: These road sweepers are utilized in industrial areas to clean roadways, storage yards, and construction sites.