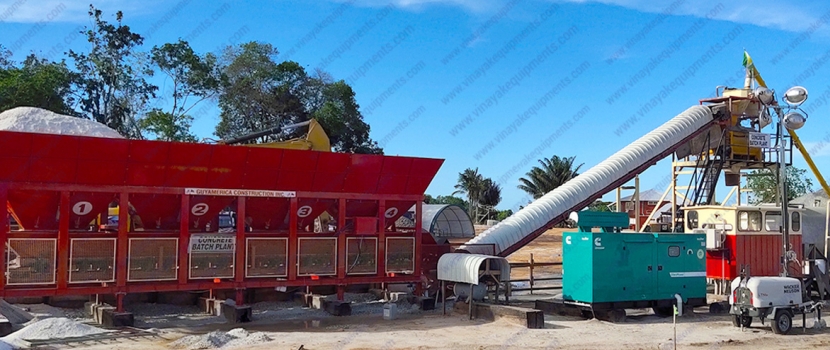 Most industries house big and heavy types of machinery in factories to produce finished products. However, with advancement in technology, you can opt for machines which are smaller, easier to maintain, and portable.

These features allow flexibility and ease of work in industries. Smaller and compact machines or industry sizes ensure a safer work environment as well and it ensures accountability.


Should you opt for compact concrete plants in India?
The answer to the above question is yes! Compact concrete plants come with multiple advantages which fit perfectly for India's requirements. Compact concrete plants require smaller space, they are rapidly installable and, portable. Besides these major advantages, one should also note that compact concrete plants require a lower investment and are easier to maintain in the long run.


There are several more advantages associated with a compact concrete plant. They are listed below:
1. Easy Installation - installation processes for most sophisticated industrial pieces of machinery are complex and time taking. However, compact concrete plants are designed to be installed in a short time frame without complications.


2. Minimum site preparation - Having minimum site preparation requirements is a big advantage for industries. The site can be prepared simply by placing a concrete slab that can hold the weight of the compact concrete plant.


3. Ideal for spaces with limited dimensions - Many a time, space becomes limited and in such situations a compact concrete plant is ideal. It is designed to occupy minimum space.


4. Most compact concrete plants have versatile use - ready mixed concrete, dry mixed concrete, or precast concrete production.


5. Sophisticated parts and user-friendly for ease of workers - Most sophisticated machines are complex to use and may require special training to operate. However, compact concrete plants use technology that is easy to use and does not require prior training for workers to operate it.


6. Easy maintenance and repair - Compact concrete plants are designed to be efficient and reduce waste. This efficient mechanism allows it to minimize wear and tear as well. Thus, allowing a longer life span and low maintenance cost.


7. Easily Portable - Compact concrete plants are lightweight and easy to transfer. This is bound to be an added advantage for your factory in case of a change of location or position.


8. Safe for industrial use - Compact concrete plants are engineered keeping worker safety in mind. However, it is always advisable for workers to wear proper protective gear like helmets in construction sites.


What is the production rate of a compact concrete plant?
Most compact concrete plants have a production rate of 20 - 100 m3/h. Not only will compact concrete plants allow you to change your production levels according to your needs. Most also have inbuilt mechanisms to allow one to produce a variety of concrete depending on the requirement. You can opt to produce ready-mixed concrete, dry mixed concrete, or pre-cast concrete as per need.


Safety in a work environment
The safety of workers is a priority for employers. Naturally, providing safety equipment to each worker is important to ensure a reduced chance of fatal damages in case of an accident. Construction sites often have large cranes and pollution on site. Thus, it is important to equip on-site workers with necessary protective gear to ensure their safety. Providing good quality gloves, helmets, eye protection is important. One should ensure on-site availability of fresh water and glucose to avoid heat strokes and fainting of laborers due to low sugar levels.
India is a hot and humid country. Physical tasks demand energy, tenacity, and hard work. Providing the bare minimum to employees is a foot forward towards to better society and work environment.


Conclusion
The advancement of technology has allowed humans to save time and effort. Compact concrete plants are exemplary for the above statement. Concrete is an important substance for building infrastructure and foundations. India being a developing nation, requires tonnes of concrete each year to meet its development requirements. Compact concrete plants allow industries to use a superior mix of concrete for their projects and reduce their completion process. This is a major advantage as time is equivalent to money in today's age.


However, one should keep in mind the damage caused to the environment due to construction and development. Deforestation is one of the major causes of global warming. Humans have been acquiring forest lands for decades for their self needs. As developers and educated individuals, one must opt for more environmentally friendly options over the faster and more money-generating alternative. A greener planet is a happier planet.