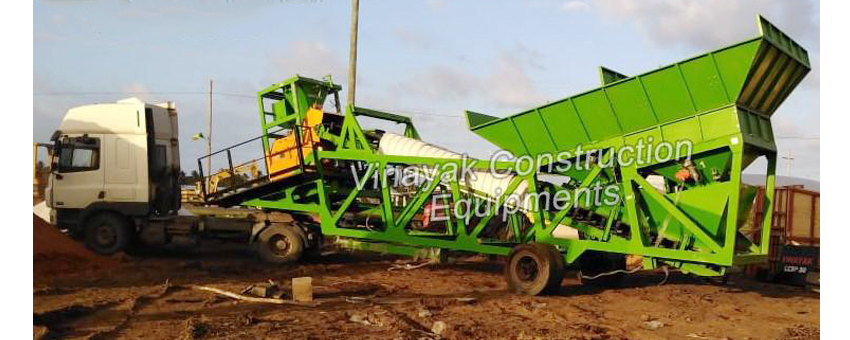 To manufacture concrete, a concrete batching plant machine combines several elements. Water, air, aggregates, cement, and fly ash are examples of these components. It is made up of various elements and machines such as mixer units, conveyors, aggregate and cement batchers, cement silos, and so on. A Mobile Concrete Batching Plant is a machine that mixes and blends concrete ingredients in a uniform manner to produce concrete of the specified strength and quality. The plants could be used wet or dry, and they come in a variety of configurations and production kinds, including Ready Mix, Precast & Prestressed, Central Mix, and RCC.
Market Trends:
The batching plant category is one of the largest in India's concrete equipment market in terms of value. The segment's expansion is being driven by rising customer demand for high-capacity, technologically sophisticated batching plants. Factors such as an increase in the number of construction projects, faster completion times, and end-user desire for customized solutions are fueling the expansion of this market.
High-rise buildings are one industry where the batching plant is seeing a lot of promise. Strong and high-rise buildings require high-quality concrete. Manufacturers are investing in the latest and most modern technical features for concrete batching plants. The plants are presently utilizing nearly 15% less power than competitors, and the R&D team is working on ways to reduce that even further.
The introduction of contemporary control systems has given the machine even more control over its downtime. Companies are now providing supplementary services such as storing spares at dealers for prompt delivery, providing consumers with faster moving spares, and maintaining track of spares inventories at dealers and customers.
Advantages Of Concrete Batching Plants:
The preparation of prepared mixed concrete on the construction site takes time. Using a batching plant for your project can help you save money on construction costs. Every load of concrete is made on-site. When we employ a concrete batching plant, production and delivery are completed in minutes. Customize your concrete output to meet the needs of the situation and get the most out of it. The concrete batching facility provides various advantages to construction workers:
● Combining raw materials with consistent, advanced production technology, employing computer control, precise measurement, and testing implies complete, stable, and dependable quality, rich in high strength, and therefore significantly enhancing the construction quality level (structure).
● Construction units use commercial mixing stations, increasing building speed while lowering equipment, racks, pipes, templates, as well as other rotational rental costs; until homeowners can shorten the construction cycle and decrease investment risk.
● Because of the commercial mixing plant's consistent and dependable quality, the design unit can avoid the "fat beam," "fat column," and "heavy plate" as per the mixing station's design."
● The use of mineral active admixtures (slag and fly ash and admixture, for example) in the mix mixing station can considerably increase the long-term performance of concrete waterproofing, antifreeze, anti-cracking, and abrasion resistance, as well as the service life of a building.
● Improves construction organisation, lowers labour intensity, lowers construction management costs, technical difficulties, and quality risk
The primary goal of employing this facility is to generate homogeneous and consistent concrete. The facility must constantly create concrete in batches, one after the other, in the same proportions. There are various types of batching plants available, each with its own set of features and applications, depending on the mixers and location.
Mobile Concrete Batching Plant:
Modern Mobile Concrete Batching Plant has a robust primary chassis, which allows for great durability, safe transport, longer duration operation, and sensitive weighing by reducing vibrations to the scales. All of the equipment required for the batch plant's functioning is mounted on the main chassis and transported on it. The primary chassis includes a water buffer tank, a water pump, an additional tank, and additional pumps, as well as an air compressor. Everything is pre-wired and tested.
Concrete plants with two complete sets of screw conveyors, filters, and other silo equipment can be moved using just one trailer truck. Mobile concrete batching machines are pre-wired and have all of the necessary equipment installed to allow for quick installation on-site. A conventional transportable plant can typically be deployed in 1-2 days. Containerized concrete batching plants have also lately been developed.
A new form of batching plant is the containerized concrete batch plant. It includes a mixing system, a control system, a material storage system, a weighing system, a conveying system, and other components. Furthermore, the container mixing plant has advantages such as a small footprint, simple installation, and easy transportation. In comparison to a standard concrete plant, the container mixing plant does not require the installation of legs and mounting brackets, hence removing the requirement for basic design and construction.
The batching plant will generate relatively little waste and resources.
To reduce material consumption and trash output, a concrete recycling machine will be deployed on-site.